MONDAY 19 SEPTEMBER, 2011 |
---
Solar Panels To Help Power Emmy Awards
by Energy Matters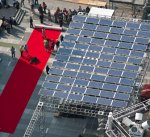 200 solar panels will form an awning over the red carpet at this year's Primetime Emmy Awards.   
The 50 kilowatt solar power system is part of other sustainability measures being implemented at the 63rd Primetime Emmy Awards  - even the red carpet is made from recycled materials.   
"This year's show will mark the historical moment when solar power made its debut in American popular culture," said Kevin Kilkelly, president of
SolarWorld Americas
, the company providing the solar panels.   
According to SolarWorld, this is the largest solar installation to power an awards show. The real power of the solar energy system in this application isn't the electricity it will generate, but the fact that millions of people will see the array and perhaps be inspired to make the switch to
solar energy
.   
After the event, the solar panels will be donated to Habitat for Humanity of Greater Los Angeles, who will use the modules to help provide 10-20 households with clean, renewable electricity. Habitat For Humanity strives to eliminate substandard housing through advocacy, education and partnership with families and individuals in need to build simple, sustainable and affordable housing.    
SolarWorld has been involved with other affordable housing projects; including a solar installation believed to be the nation's largest for a government-sponsored affordable housing project. The 2-megawatt project owned and operated by the Housing Authority of the County of Santa Barbara (HACSB) will bring solar technology to more than 1,000 low-income families in the California county. More than 7,200 solar will offset all of the electricity consumption of 863 units of affordable housing. Last year, SolarWorld collaborated with Planet Solar on a 100-kilowatt system for the Housing Authority of the City of Santa Barbara.   
SolarWorld is the USA's largest manufacturer of solar components. The company has been operating for more than 35 years and currently employees around 3,800 people.   
---
---
---
---
Other news for Monday 19 September, 2011
---
---
---
Return to main renewable energy news section
Other Energy Matters News Services