WEDNESDAY 01 SEPTEMBER, 2010 |
---
South Australia To Boost Solar Feed In Tariff Rate
by Energy Matters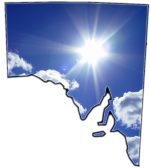 It's good news for solar households in South Australia - the State's solar feed in tariff rate is about to increase by 10c to 54c per kilowatt hour - and possibly more. However, the inevitable rush on solar power systems could see the State's cap for the scheme reached sooner than anticipated.      
Premier and Minister for Sustainability and Climate Change, Mike Rann, announced on Tuesday the State Government intends introducing legislation to increase the bonus to 54 cents per kilowatt hour.     
"In addition, retail electricity providers will be obligated to pay a cost for the power they receive from residents who feed power into the grid via their solar panels," stated the Premier. Mr Rann says this could bring the bonus to around 60c per kilowatt hour.     
Mr Rann said those who generate electricity via solar energy deserve to be paid a fair price for the power they contribute to the network and the amended scheme will see South Australia's
feed in tariff
being at least as generous as those in other States.     
The bonus will be limited to the first 45 kilowatt-hours per day; a level that far exceeds what most households would generate with an average sized solar power system (1.5kW); but even so the 45 kilowatt-hour limit will not affect solar power systems below 7 kilowatts in size. New connections under the scheme will also be subject to additional criteria.      
Households still considering installing solar power should note that when total installed capacity in South Australia reaches 60 megawatts, the scheme will be closed to new connections. The Government believes this will happen around the end of next year, but based on the experience of other states and regions around the world and comments from Greens MP Mark Parnell, the inevitable rush on
solar power systems
through the increased incentive could see that target reached earlier.   
At the time of writing, the date of the change in rate coming into effect is not clear. A Bill is expected to be considered by Parliament towards the end of 2010. We will update our
feed in tariff information page
once the details are available.