WEDNESDAY 15 SEPTEMBER, 2010 |
---
British Dentists Wary Of Solar Powered Toothbrush Gadget
by Energy Matters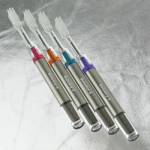 A solar powered toothbrush has been given the thumbs down by the British Dental Health Foundation.  
Developed by
University of Saskatchewan College of Dentistry
students J.H. Lee and K.Y.J Li, the Soladey-J3X  solar powered toothbrush  incorporates a solar panel that transfers electrons to a titanium oxide semiconductor located at the neck of the brush. The electrons stimulate a reaction that facilitates the disruption of plaque and helps reduce gum inflammation.  
A recent clinical trial U of S College of Dentistry has found the Soladey-J3X is more effective at reducing bleeding associated with gingivitis when compared to a control brush. Investigators  are currently preparing their findings for publication.  
However, the
British Dental Health Foundation
has issued a statement saying that using a fluoride toothpaste twice a day when brushing teeth is by far the best form of dental hygiene.  
According to Chief Executive of the British Dental Health Foundation, Dr Nigel Carter,  the ingredients in modern toothpastes are too complex for "what is essentially 'a gadget'" to replicate. Dr Carter says more tests are needed to be performed to see if the solar powered toothbrush can do what it claims and to measure any potential long–term effects of not using toothpaste.  
"As we know of, there is yet no substitute for brushing our teeth twice a day with a fluoride toothpaste – and I cannot see that changing."  
The Soladey-J3X toothbrush is already being sold in parts of Asia and Europe and is also available online.  
---
---
---
---
Other news for Wednesday 15 September, 2010
---
---
---
Return to main renewable energy news section
Other Energy Matters News Services