WEDNESDAY 15 SEPTEMBER, 2010 |
---
Queensland Plans To Import 'Green' Electricity From PNG
by Energy Matters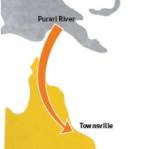 A Queensland plan to import "green" power into the state from Papua New Guinea has been questioned by national solar solutions provider, Energy Matters.    
Announced this morning by Queensland Premier Anna Bligh, the proposed Wabo Hydroelectricity Project would see electricity from the Wabo hydro facility in Papua New Guinea exported to Queensland through a proposed undersea transmission line through the Torres Strait that will connect to the National Electricity Grid at Townsville.    
Premier Bligh says the major potential benefits include long-term affordable baseload renewable electricity for Far North and North West Queensland; the opening up of a range of industry, renewable energy and other development options; and increased employment associated with the construction of a multi-billion dollar transmission line.   
The Premier also says a decrease in Queensland's carbon footprint of up to 8 million tonnes of greenhouse gas emissions annually would result from the project.    
Energy Matters
co-founder Max Sylvester has questioned the project.    
"Premier Bligh is a great supporter of renewable energy and we certainly applaud that; however, this is an awful lot of investment that could be channelled into more home grown renewable energy solutions, providing even more employment and bolstering Australia's energy independence while also realising equivalent carbon emission reductions."    
Mr. Sylvester points towards Ernst & Young's recent
Renewable Energy Attractiveness Index
which shows Australia remains ranked at number 12.     
"Australia has an absolutely massive pool of renewable energy resources - we should be ranked no.1 in the world, not 12 and I don't think we'll get there by outsourcing electricity generation outside our shores, however green it is. In addition, Papua New Guinea's somewhat unstable political climate makes this a somewhat risky project in my opinion."    
Aside from investment, energy security and political issues, Mr. Sylvester also wonders about the efficiency of such a project.    
"The enemy of any transmission line technology is line loss. The further the distance from the point of generation to the point of consumption, the more electricity is lost; usually as heat. Transmission and distribution losses in the USA and UK are around 7% and I assume it would be similar in Australia."    
"To reduce line loss, you generate electricity as close to the point of consumption as possible, for example, via rooftop
solar power systems
- it doesn't get much closer than that. Given Queensland's substantial solar resources, and our own company's interests aside, surely increased focus on solar power would be more beneficial and would certainly see the Premier's goals of Queensland being Australia's solar state realised."    
---
---
---
---
Other news for Wednesday 15 September, 2010
---
---
---
Return to main renewable energy news section
Other Energy Matters News Services