MONDAY 20 SEPTEMBER, 2010 |
---
Hazelwood Power Station A Lemon
by Energy Matters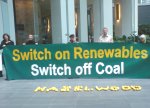 Frustrated by a lack of progress on the closure of Hazelwood power station in Victoria, said to be one of the world's filthiest coal fired power generation plants, protestors have taken their message to the station's new owners.
Yesterday morning, members from
Switch Off Hazelwood Switch On Renewable Energy
arrived on French company GDF Suez's doorstep at Rialto Towers, 525 Collins St, Melbourne with a box of lemons and a letter outlining their grievances.
The group plans a larger rally at Hazelwood power station on October 10, the International Day of Climate Action.
According to event organiser Carey Priest, "Premier Brumby has said he might close one quarter of Hazelwood by 2014, but vague partial promises are no substitute for actual commitment - if you want jobs, if you care about the future, then it's time to switch off Hazelwood, and switch on renewable energy."
The plant was due to be decommissioned in 2005 and the new owners aren't necessarily opposed to
closing Hazelwood
either; pending appropriate financial incentives along with investment in new jobs and industries in the Latrobe Valley.
A report
on the ABC states Premier John Brumby has indicated the negotiations will take some time and discussions will get under way in the next few months.
Closure of the Hazelwood power station would make a significant contribution to greenhouse gas reduction in Victoria. Green group Environment Victoria says the replacement of the plant would slash Victoria's greenhouse gas pollution by 12 percent. Hazelwood is also reportedly the single highest emitter of dioxins in Australia.
Earlier this year, Environment Victoria released a report stating that Hazelwood could be
replaced with clean and renewable energy
power generation as early as the end of 2012, creating up to 2500 construction jobs and 2300 ongoing jobs in the process.
With State elections soon to be held in Victoria, the issue of Hazelwood's closure may feature more heavily in the time ahead.
---
---
---
---
Other news for Monday 20 September, 2010
---
---
---
Return to main renewable energy news section
Other Energy Matters News Services