TUESDAY 14 DECEMBER, 2010 |
---
Australia's Renewable Energy Investment Potential
by Energy Matters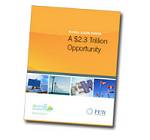 A report from the respected Pew Charitable Trusts forecasts that if clean energy policies are strengthened significantly; $2.3 trillion could be invested in clean power assets in G-20 countries over the next decade; with Australia having the potential to capture $35 billion of that figure.       
The report examines three different scenarios:      
Current Policies: no new climate or clean energy policies beyond those currently in effect.      
Copenhagen Policies: G-20 countries a meet pledges made in relation to the United Nations Framework Convention on Climate Change Conference of the Parties mad in Copenhagen, Denmark, in 2009.     
Enhanced Clean Energy Policies: where G-20 countries aim for additional clean energy policies in order to further reduce greenhouse gas emissions and maximise clean energy investments.     
In relation to renewable energy and under the enhanced clean energy policies scenario, annual renewable energy capacity additions could exceed 177 gigawatts (GW) by 2020. Collectively, the G-20 could see cumulative capacity additions of 1,180 gigawatts over the next decade under the scenario.     
When discussing Australia, the study says by adopting enhanced clean energy policies, the country could significantly boost clean energy investments by 325 percent to just over USD $4 billion dollars in 2020. Under current policy, USD $2.5 billion of investment would be seen.     
In the enhanced policy scenario, cumulative investment potential in Australia from this year to 2020 is projected as $35 billion, which includes installation of 19 GW of
renewable energy
generating capacity.     
Elements of an enhanced policy scenario in Australia may include:     
- A price on carbon
- Moratorium on conventional coal fired power generation
- Reduction of subsidies for subsidies for fossil fuel energy production 
- National small-scale
solar feed-in tariff
program 
- Transmission and smart grid programs
- Funding for renewables technology development
- Biofuels tax credit paired with more a stringent renewable fuels standard.     
View the full report:
Global Clean Power: A $2.3 Trillion Opportunity
(PDF)     
---
---
---
---
Other news for Tuesday 14 December, 2010
---
---
---
Return to main renewable energy news section
Other Energy Matters News Services