MONDAY 17 JANUARY, 2011 |
---
NSW Solar Bonus Scheme Approaches 300MW Capacity
by Energy Matters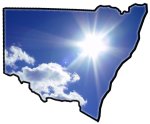 The New South Wales government advised last week that applications to join the NSW Government's Solar Bonus Scheme have now passed 300 megawatts.
While not all applications have been processed, once 300 megawatts of solar capacity is connected to the grid, the NSW Minister for Energy may close the Scheme.
As at 31 December 2010, the total capacity of applications to connect to the mains grid under the Solar Bonus Scheme was 326 MW. Of this, 163 MW has been connected according to information posted on the NSW Industry & Investment web site.
Mark Duffy, Deputy Director-General of Industry & Investment NSW, said the Government is committed to keeping the Scheme within the 300 megawatt cap and while not all existing applications will result in connection, the situation must be factored in by prospective customers considering installing
solar power systems
.
Even if the scheme should come to an end for new connections, some electricity retailers are offering payments for the electricity exported to the grid, separate to the Solar Bonus Scheme. Net metering is also an option, which provides a credit on surplus electricity generated and exported to the mains grid.
Mr. Duffy says the department expects over 130,000 customers to be participating in the Solar Bonus Scheme if existing applications result in connection.
New South Wales'
Solar Bonus Scheme
, prior to recent cuts, was one of Australia's most generous
feed in tariff
schemes. Rates for the hugely popular program
were unexpectedly slashed
from 60c/kWh to 20c/kWh for new connections in late October.
---
---
---
---
Other news for Monday 17 January, 2011
---
---
---
Return to main renewable energy news section
Other Energy Matters News Services