TUESDAY 01 FEBRUARY, 2011 |
---
Southwest Windpower Unveils Skystream 600 Wind Turbine
by Energy Matters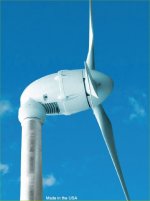 Southwest Windpower recently unveiled its newest and most efficient small wind turbine, the
Skystream 600
.
Launched at the 2011 International Consumer Electronics Show (CES), Southwest Windpower says the Skystream 600 produces 74% percent more electricity than its predecessor, the
Skystream 3.7
, and states it is the most efficient power grid-connected
wind turbine
in its class.
Providing an average of 7,400 kWh of clean energy per year per household in 18 km/h average annual wind speeds, the 2.4kW Skystream 600 could provide up to 80 percent of an average home's power requirements.
Southwest Windpower
says the Skystream 600 will be the "first fully smart grid-enabled wind turbine" and owners of the turbine will be able to monitor energy production from anywhere Internet access is available using the Skyview(TM) system.
The turbine features a number of upgrades; including larger blade design that helps capture more
wind energy
, improved software and integrated inverter.
Manufacturer of well-known products including Skystream, Whisper and Air turbines; Southwest Windpower is a world leader in wind turbine manufacture for the home market and commercial properties. Founded in Flagstaff, Arizona over 20 years ago, the company has installed 170,000 wind turbines around the world and currently sells 15,000 units each year. Southwest Windpower has grown 3.5 times in annual sales volume over the past 4 years and plans for exponential growth over the coming 5 years.
The Skystream 600 will be available globally from April this year and a monopole system to suit the turbine will be available in various heights.
Learn more about the
Skystream 600
---
---
---
---
Other news for Tuesday 01 February, 2011
---
---
---
Return to main renewable energy news section
Other Energy Matters News Services