THURSDAY 03 FEBRUARY, 2011 |
---
Emerald Solar Panel Developed For The Poor
by Energy Matters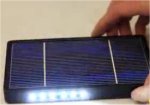 A team of students from the University of Michigan are utilising solar energy to bring light to the dark nights they experienced during childhood, growing up and studying in impoverished Africa and Bangladesh.     
Engineering students Abdrahamane Traoré, from Mali, and Md. Shanhoor Amin, from Bangladesh, have developed a personal solar panel called the Emerald, which provides light and can also store enough energy to charge a mobile phone. The Emerald can provide 100 lumens (standard light measurement) of light, bright enough to comfortably read by, even to light a small room.     
The Emerald uses energy-efficient light-emitting diodes, or LEDs. A full charge from the device's solar panel can provide reading light for at least 8 hours. The Emerald also comes equipped with a USB port for charging mobile devices. It recharges in full sunlight in three hours.     
Both men understand first-hand how valuable a portable solar energy device, which can accomplish duel purposes such as lighting and power generation, can be. In developing nations, kerosene lamps, which emit harmful fumes and are costly to run, are the standard light source for most people.     
"Kerosene lamps provide 60 lumens of light, which is really not much," Amin said. "It strains the eyes. Our product can give up to 100 lumens, which is really ample for reading at night time."   
"I knew the lamp was harmful to my lungs, but I didn't have access to anything better," Traoré said.   
Together, Traoré and Amin helped form June Energy which will manufacture and distribute the Emerald. A prototype has been built, and the company expects to ship its first 40 domestic orders of the solar device soon. The aim, they say, is to get the price of the Emerald down below US$20, to make it affordable for people in the developing world.    
Source
---
---
---
---
Other news for Thursday 03 February, 2011
---
---
---
Return to main renewable energy news section
Other Energy Matters News Services