THURSDAY 03 FEBRUARY, 2011 |
---
5.3 MW Solar Farm For Princeton University
by Energy Matters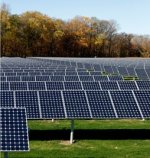 Princeton University in the USA has announced a project to build a 5.3 megawatt solar farm - one of the largest facilities at a U.S. college or university.
The solar energy plant will be constructed on 11 hectares of land and will consist of 16,500
solar panels
. The facility will generate around 8 million kilowatt-hours of
solar electricity
annually; enough to provide the power needs of 7,000 households and equivalent to 5.5 percent of Princeton's annual electricity requirements.
Princeton University says the project will be funded and owned Key Equipment Finance, who will lease it to the institution.
Michael McKay, Princeton's vice president for facilities, said the University hopes its approach will serve as a national model and that the facility will also be used as an educational tool for Princeton students.
SunPower
T0 Trackers will be used on much of the solar farm in order to maximise energy capture. The trackers employ GPS technology to track the sun as it moves across the sky.
This isn't Princeton's first solar farm; two other systems are in operation on the University's campus. A 5,000 solar module array was installed on the rooftop of the Research Collections and Preservation Consortium in 2009 and a 216 panel solar power system is situated at the Frick Chemistry Laboratory.
The University has a goal of reducing its annual carbon dioxide emissions to 1990 levels (95,000 metric tons) by 2020 as part of its overall sustainability plan. Princeton has reduced its emissions over the last two years by 2.5 percent.
Source/Image source
---
---
---
---
Other news for Thursday 03 February, 2011
---
---
---
Return to main renewable energy news section
Other Energy Matters News Services