TUESDAY 08 FEBRUARY, 2011 |
---
800,000 Suntech Solar Panels To Power 150MW Farm
by Energy Matters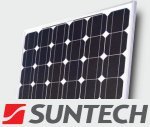 Sempra Generation's Mesquite Solar 1 project in Arizona will be constructed using hundreds of thousands of Suntech polycrystalline solar modules.   
Construction of the massive solar farm is scheduled to commence in the middle of this year and will be completed by 2013.    
The Mesquite Solar 1 facility will generate in excess of 350,000 megawatt hours of clean electricity each year - enough to meet the power requirements of 50,000 homes. Carbon emissions of 200,000 tonnes will be avoided annually through the project, comparable to taking 40,000 cars off the road.   
The PV-based
solar energy
facility will be one of the largest in the world and will create more than 200 local jobs for construction and installation.  
The 150MW capacity is only phase 1 -  Mesquite Solar 1 will grow to over 700MW when fully completed.   
The solar farm will be located around 45 kilometres from
Suntech's solar panel
manufacturing facility in
Goodyear, Arizona
, which recently
ramped up module production
to meet demand in North America. The factory will supply some of the solar panels for the Sempra Generation project.   
Sempra Generation, a subsidiary of Sempra Energy, is also developing a wind power facility in Baja California, Mexico. The 150 MW project is scheduled to be operational sometime this year..    
Suntech Founder, Chairman, and CEO Dr. Zhengrong Shi said the Mesquite Solar 1 project will show that solar is "a competitive, fast, reliable and scalable solution for utility-scale electricity generation."    
Dr. Shi says Suntech has set a goal to drive solar past retail grid parity in half of world markets by 2015.  
Suntech's solar modules are a popular choice in Australian commercial and home
solar electric systems
.   
---
---
---
---
Other news for Tuesday 08 February, 2011
---
---
---
Return to main renewable energy news section
Other Energy Matters News Services