THURSDAY 10 FEBRUARY, 2011 |
---
Campbell's To Power Soup With Solar Energy
by Energy Matters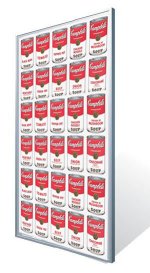 Campbell's Soup in the USA will be a little more environmentally friendly as a result of solar power providing energy for its operations in Napoleon, Ohio.   
Campbell Soup Company
yesterday announced a power purchase agreement with BNB Napoleon Solar LLC for the construction of a 9.8MW PV-based solar farm on 24 acres at Campbell's largest plant.   
The solar farm is expected to provide around 15 percent of the plant's electricity needs, saving the company up to $4 million over the 20 years of the agreement. The system will produce more than 14.7 million kilowatt hours of electricity during the first year of operation.  
Carbon emission reductions from the clean electricity production is projected to be approximately 250,000 tonnes in total, or the equivalent of taking 2,000 cars off the road each year.  
Approximately 24,000
SunPower solar panels
will be used at the facility, along with Sunpower's Tracker system; which follows the sun throughout the day and angles the solar modules for optimal energy harvesting.  
The project will generate around 200 local construction jobs in Ohio.   
Campbell Soup Company has committed to cutting the environmental footprint of it's product portfolio in half, as measured by water use and CO2 emissions per tonne of product produced. According to the company's 2010 corporate social responsibility report, Campbells recycled more than 84% of waste generated and invested more than $6 million in environmental sustainability projects. The company states it now produces a tonne of food with 19% less energy than it consumed 10 years ago. Campbell's products extend far beyond soup and includes well known brands such as Arnotts, V8 and Pepperidge Farm.  
---
---
---
---
Other news for Thursday 10 February, 2011
---
---
---
Return to main renewable energy news section
Other Energy Matters News Services