THURSDAY 10 FEBRUARY, 2011 |
---
Hanwha SolarOne (Solarfun) Inks 54MW Panel Deal
by Energy Matters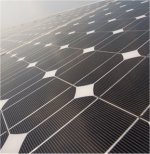 Hanwha SolarOne, formerly known as Solarfun, has announced an agreement to  supply 54MW of solar panels to SunEdison this year.  
The deal also includes an option for an additional 30MW of PV modules in 2011.   
President of Hanwha SolarOne Dr. Peter Xie said the agreement marked a significant expansion of the solar panel maker's relationship with SunEdison, who Hanwha SolarOne began delivering solar cells to in 2010.  
Hanwha SolarOne sees the North American market as a key to its long term success and the SunEdison deal plays an important role in establishing a respected presence in the region. The company expects shipments of modules to North America to more than double this year, to over 100 MW.   
Hanwha SolarOne also recently expanded upon it's
Solarfun rebrand
and structural changes, saying Hanwha Chemical Corporation will engage in the production of high-grade crystalline silicon. Through its strategic partnerships with Hanwha Chemical Corporation and the Hanwha Group, the company will improve access to crystalline silicon and project development and financing.   
Dr. Peter Xie commented, "Hanwha SolarOne represents a redefinition of the solar value chain".  
Solarfun solar modules, a popular choice in
solar power systems
here in Australia, will be marketed in Australia and elsewhere as 
SolarOne solar panels
.   
The company
has also announced
that it will release its unaudited financial results for the fourth quarter and full year of 2010 before the market opens on March 17. Dr. Xie, SolarOne's Chief Financial Officer and Vice President of Strategic Planning will discuss the results and take questions following the prepared remarks.   
---
---
---
---
Other news for Thursday 10 February, 2011
---
---
---
Return to main renewable energy news section
Other Energy Matters News Services