TUESDAY 15 FEBRUARY, 2011 |
---
Car Rental Giant Hertz Launches Solar Energy Initiative
by Energy Matters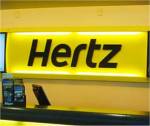 Car rental giant, the
Hertz Corporation
, has announced it it rolling out 2.3 MW of solar power systems at sixteen locations in North America; with more likely to follow.
Under the company's solar initiative, a 235 kW
solar electric system
at Denver International Airport has already been constructed and is expected to produce 342,766 kWh of clean electricity each year.. Hertz says the solar array will offset approximately 294 tonnes of carbon dioxide annually.
After systems are installed in 15 other locations in the USA, the company will then look to constructing additional power generation facilities in the US and internationally says Mark Frissora, Hertz Chairman and CEO. Aside from carbon emissions reductions, Mr Frissora says that "investing in solar energy makes good business sense" for Hertz Corporation.
Hertz has a long-established sustainability program that includes the conservation of natural resources by minimizing the use of non-renewable materialsm, utilizing recycling services and implementing energy conservation practices.
In December 2008, Hertz initiated a "Nap Time Program" that shuts down computer monitors on office desktop computers after 3 minutes of activity. Given the thousands of computers the company has, use of the applications has resulted in significant electricity savings.
In regard to car rentals, Hertz now offers "The Green Collection", consisting of over 35,000 more fuel-efficient vehicles, including 5,000 hybrid cars. Hertz says it will soon be introducing the Nissan Leaf to its fleet. The Leaf is a zero emission, all-electric vehicle with energy storage in the form of a lithium ion battery.
---
---
---
---
Other news for Tuesday 15 February, 2011
---
---
---
Return to main renewable energy news section
Other Energy Matters News Services