WEDNESDAY 13 APRIL, 2011 |
---
California Legislates 33% Renewable Energy By 2020
by Energy Matters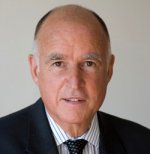 As sections of the Australian media, wealthy polluters, and both major political parties engage in a war of words on the subject of whether action on climate change is worth spending money on - be it in the form of a carbon tax,
solar rebate
schemes or renewable energy feed-in tariffs - the state of California is getting on with the job.
California yesterday signed into law a requirement that its electricity suppliers must purchase at least 33 percent of their power from renewable energy sources by 2020.
California Governor Jerry Brown signed the Bill at the opening of a
SunPower solar panel
manufacturing plant. The new law, Bill SBX1 2, allows for the expansion of the Renewables Portfolio Standard (RPS) program which required Californian utilities to meet a
renewable energy target
of 20 percent by December 31st 2010.
By comparison, Australia's target is to ensure that 20 per cent of Australia's electricity supply will come from renewable sources by 2020.
Under the new California bill, renewable energy would have to make up 20 percent of total electricity sold to retail customers by the end of 2012; 25 percent by December 31st 2016 and 33 percent by 2020.
"This bill will bring many important benefits to California, including stimulating investment in green technologies in the state, creating tens of thousands of new jobs, improving local air quality, promoting energy independence, and reducing greenhouse gas emissions," said Brown
in his signing message
.
Brown said he hoped the Renewables Portfolio Standard would put California in the USA's top solar power spot. 33 percent, he said, was a flexible figure.
"While reaching a 33% renewables portfolio standard will be an important milestone, it is really just a starting point - a floor, not a ceiling. I would like to see us pursue even more far-reaching targets. I think 40%, at reasonable cost, is well within our grasp in the near future."
---
---
---
---
Other news for Wednesday 13 April, 2011
---
---
---
Return to main renewable energy news section
Other Energy Matters News Services