THURSDAY 14 APRIL, 2011 |
---
SunPower Shines On With Major Solar Initiatives
by Energy Matters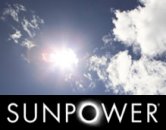 It's been a huge few days for solar panel manufacturer, SunPower Corporation - with an announcement of over USD$1 billion in conditional loan guarantees from the U.S. Department of Energy and the opening of new solar panel manufacturing facility in California.
††††††
On Tuesday, U.S. Energy Secretary Steven Chu and California Governor Edmund G. Brown, Jr.joined SunPower and Flextronics in officially opening a solar panel manufacturing plant in Milpitas that will produce 75 megawatts (MW) of solar modules each year.
†††††
The event also acted as a springboard for
Governor Brown's announcement
of the signing into a law of a 33% renewable energy target for the state, to be achieved by 2020.†
††††
Announced also on Tuesday was a conditional commitment for a loan guarantee of up to $1.187 billion from the U.S. Department of Energy (DOE) to go towards the construction of the SunPower sponsored 250-megawatt California Valley Solar Ranch power plant. Averaging 315 sunny days a year, California Valley is noted as being one of the best sites for solar power generation in the entire state of California.
††††
The solar farm will generate enough clean,
solar electricity
to supply approximately 100,000 homes - almost every home in the County.†
†††
Approximatedly 45% the land to be used for the project will be dedicated to arrays of
SunPower solar panels
set on solar trackers and associated infrastructure, with the remaining 2,399 acres to be permanently set aside for habitat preservation and wildlife movement
††††
SunPower says the Solar Ranch will create more than 350 jobs at the peak of the projectís 2.5-year construction phase.
††††
Construction should begin this year, with part of of the project expected to commence operations by the end of 2011 and the remainder coming on line in 2012 and 2013. SunPower says it will be the largest photovoltaic (PV) solar power plants in the world upon completion.
††††
---
---
---
---
Other news for Thursday 14 April, 2011
---
---
---
Return to main renewable energy news section
Other Energy Matters News Services