TUESDAY 19 APRIL, 2011 |
---
Bosch Solar Energy's Record Breaking Solar Cell
by Energy Matters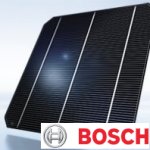 Bosch Solar Energy has unveiled a record-breaking large-format solar cell, which delivers an impressive 19.6 percent energy conversion rate.  
The new 156 x 156mm PERC – Passive Emitter and Rear Cell – photovoltaic wafers were independently tested at the Fraunhofer Institute for Solar Energy Systems in Germany. The Institute confirmed the record had indeed been reached for
monocrystalline solar cells
with screen-printed metallisation in a large format.  
Normally, silicon-based individual solar cells yield an average energy output of around 18 percent. When cells are place in an array, such as in a solar panel, further efficiency is lost..   
Bosch says that by coating the rear side of their solar cell with a dielectric and metal layer with point contacts, which significantly improves the cell's optical and electric performance, they have achieved a record energy output of 4.3 watts. The front layer of the wafer was also optimised to filter incidental light through to the reflective rear surface, thus further enhancing output.  
This enables solar energy systems fitted with PERC wafers to produce more electricity under weak lighting conditions, increasing annual energy yield.  
Dr Volker Nadenau, Chief Technology Officer at Bosch Solar Energy AG, says solar cells based on the altered design concept will soon be available on the market and praised the efforts of Bosch's engineering team.   
"Especially since we've exclusively used industrial production steps to manufacture those record-breaking cells," Dr Volker said. "Now we have to push hard in order to make our products based on this design as soon as possible ready for production."  
The company expects to begin rolling out the new modules by the end of the year.  
Bosch Solar Energy has engaged in a major push into solar power over the past year. In August 2010, the company opened a
new solar cell plant
in Arnstadt, Germany that will boost production by 90 million solar cells annually.    
The Bosch Group was founded in Stuttgart in 1886 and consists Robert Bosch GmbH and more than 300 subsidiaries and regional companies in over 60 countries.  
---
---
---
---
Other news for Tuesday 19 April, 2011
---
---
---
Return to main renewable energy news section
Other Energy Matters News Services