FRIDAY 22 APRIL, 2011 |
---
Renewable Energy Assessment For Western Australia
by Energy Matters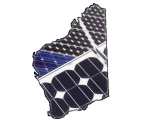 The Australian Government has announced work is about to commence on a detailed assessment of the renewable energy potential of the Mid-West and Pilbara regions of Western Australia.
The study will go towards identifying and addressing some of the issues holding back investment in remote off-grid and areas with only limited access to the mains electricity grid.
Announcing the successful tenderer, Resources and Energy Minister, Martin Ferguson said
renewable energy
may offer a real solution in terms of supplying electricity to power some of Western Australia's remote farms, mines and communities.
The study will "pick winners" - assessing the most economically viable renewable energy technologies and identifying the constraints to their deployment. It will also anticipate future demands on electricity requirements and infrastructure and how renewable energy may be able meet these needs.
"Western Australia has some of the best renewable energy sources in Australia ranging from solar, ocean, wind and geothermal, yet has the lowest renewable energy capacity among the states," Minister Ferguson said.
Like much of Australia, Western Australia is currently heavily dependent on emissions intensive coal fired power generation.
The company successful in the tender for the assessment is Evans & Peck; an Australian based firm that provides consultancy on enhancing the development and delivery of infrastructure assets and services.
The Australian Centre for Renewable Energy (ACRE) is funding the study. ACRE is part of the Australian Government's $5 billion Clean Energy Initiative, a component of the Government's action on climate change and complements the Renewable Energy Target.
An earlier study
from researchers from the University of Western Australia found Concentrated Solar Power (CSP) technologies generate clean electricity for communities and mining operations throughout the Western Australia's vast Wheatbelt.
---
---
---
---
Other news for Friday 22 April, 2011
---
---
---
Return to main renewable energy news section
Other Energy Matters News Services