WEDNESDAY 20 JULY, 2011 |
---
Renewable Energy Accelerates - Greenpeace
by Energy Matters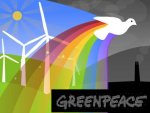 A new report from Greenpeace International examining trends in the global power plant market paints a promising picture for the future of renewable energy stocks, finding the installed capacity of solar and wind grew faster than any other power source between the years 2000 and 2010.
"The Silent Energy [R]evolution" report uses International Energy Agency figures to show how growth in renewables, particularly solar PV, has exploded over the past decade. The global market volume of renewable energies in 2010 reached on average the same level as the total global energy market volume each year between 1970 and 2000.
But despite wind and solar reaching a combined 430,000 megawatts (MW) of total installed capacity between 2000 and 2010, fossil fuel generation still dominated the global power sector with new coal-fired power plants producing 475,000MW in the same period.
The report states that China is the biggest culprit in the expansion of coal-fired energy generation - the nation installed nearly 80 percent of the world's coal-fired plants in the last 10 years - defying global power market trends, which have seen the phase-out of coal in most liberalised economies since the late 1990s. But the report adds China is shutting down its dirtiest coal-fired plants and is currently investing heavily in renewables, especially wind power.
After a relatively steady rise from 1970 until 1985 – a year before the Chernobyl meltdown, nuclear energy has been in a period of decline with no sign of a "nuclear renaissance" according to the Greenpeace analysis.
The deregulation of energy markets during the 90s in the USA and Europe, along with binding Renewable Energy Targets and European feed-in tariff laws have forced the growth in market share of renewable energy. The report found that due to these incentives, the wind industry now has projects in over 70 countries around the world. The solar photovoltaic industry experienced an equal growth since 2005.
Between 2000 and 2010, 26 percent of all new power plants worldwide were renewables - mainly wind - and 42 percent gas power plants. Two-thirds of all new power plants installed globally are either renewable or gas power plants. Nuclear remains irrelevant on a global scale with just 2% of global market share.
"The Silent Energy [R]evolution" report can be
viewed in full here
(PDF)
---
---
---
---
Other news for Wednesday 20 July, 2011
---
---
---
Return to main renewable energy news section
Other Energy Matters News Services