TUESDAY 11 OCTOBER, 2011 |
---
Thin Film Solar Panel Sector To Boom
by Energy Matters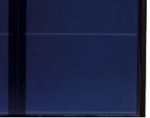 A new study on the global thin-film solar power market has found the technology is set to explode from current levels of around $2.9 billion annually, to $44 billion by 2017.    
According to the study from the USA's
Wintergreen Research
, a recognition on the part of many governments around the world that solar power is a realistic alternative to fossil fuels in the fight against anthropogenic climate change is driving an interest in solar energy that will elevate global thin-film solar to a $1 trillion market by the middle of 2021.    
Susan Eustis, lead author of the "Thin Film Solar Panel and System Market Shares and Forecasts 2011 – 2017" study, says "grid parity has been reached by thin film solar energy products for many areas of the world. When thin film solar systems are looked at over the 25 year useful life of the systems they provide very attractive payback."    
An advantage of
thin-film solar panels
is the relative ease and low cost of manufacturing the technology, such as advanced screen-printing and roll-to-roll methods.   
Although a glut in world supply of standard crystalline
silicon solar panels
currently offers all-time low prices - making them an attractive alternative to solar thermal technology in large-scale projects – thin-film solar panels use a fraction of the silicon needed in a convention solar cell, making them even less expensive to produce. However, there is some controversy over the potential risks of thin film modules
containing cadmium
.    
The industry is thriving on the back of improved technology and a decline in prices, but it will take continued government investment in clean energy infrastructure and private innovation to ensure growth remains strong.      
The report cites U.S thin-film solar company Evergreen Solar as an example of how failure can strike even in a boom period for the sector. Ultimately, the report states, "there is no better investment government can make than in achieving development of low cost, reliable solar energy. This availability of low cost energy is what makes an economy hum."
---
---
---
---
Other news for Tuesday 11 October, 2011
---
---
---
Return to main renewable energy news section
Other Energy Matters News Services