TUESDAY 03 JANUARY, 2012 |
---
Victoria's Electricity Prices Jumped 10% On January 1
by Energy Matters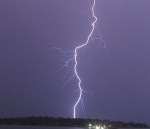 For Victorian households already struggling to keep up with skyrocketing electricity costs, 2012 hasn't started well - and Victorians won't be suffering on their own for long.    
As
forewarned in December
, electricity prices in Victoria jumped 10% on average on January 1, with some of the additional charge for simply being connected to mains power.    
The pain won't end there - another hike of around 10 per cent is likely to follow on July 1, when Australia's carbon tax comes into play.     
While many households will receive compensation under the carbon tax package, whether they will save those benefits to go towards
bigger power bills
remains to be seen. There are concerns the compensation may go towards other items, including purchasing power hungry appliances - only adding to a household's woes.    
Beyond the recent 10% jump and the one to strike mid-year, the news continues to be grim with residential electricity prices in Victoria predicted to increase by a massive 33% over the next few years; including the two slugs of 10%.   
Victorians won't be alone in their suffering. A report from the Australian Energy Market Commission (AEMC) estimates residential electricity prices throughout Australia will
jump by 37 per cent
in nominal terms on average by 2014.     
The strain of the impact of rising electricity prices has already begun to show in Victoria. According to a report released in December by the state's Essential Services Commission (ESC), the number of domestic electricity disconnections rose from 0.59 per 100 customers to 0.77 per customers per 100 customers in 2010-11,      
Aside from implementing simple energy efficiency strategies to reduce the shock associated with ballooning power bills, it's expected increasing numbers of Victorians will turn to installing solar panels.      
According to information posted on national solar solutions provider Energy Matters' web site, a 1.9kW
solar power system installed in Melbourne
can provide electricity bill savings of around $688 a year.     
With the
cost of a solar power system
plummeting 70% in recent years, some household are electing to install larger arrays; wiping out their electricity bills altogether.     
Energy Matters is currently running
New Year's solar specials
to help more Victorian households and households throughout Australia take greater control over their power choices and slash their electricity bills.    
---
---
---
---
Other news for Tuesday 03 January, 2012
---
---
---
Return to main renewable energy news section
Other Energy Matters News Services