WEDNESDAY 04 JANUARY, 2012 |
---
Solar Power Bliss For US Army Fort
by Energy Matters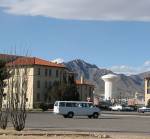 The U.S. Army is once again turning to solar power in an effort to cut down on rising energy costs, contracting energy efficiency consulting company Johnson Controls for the installation of a $16 million solar energy system at Fort Bliss, Texas.
The installation will be part of major improvements to energy efficiency at the Fort; which when completed are expected to save $39 million in energy costs over the next 24 years.
Fort Bliss
will become the first Army base to respond to President Barack Obama's directive calling on federal agencies to make $2 billion worth of energy efficiency upgrades over the next two years using
Johnson Controls
' Energy Savings Performance Contracting (ESPC). It is also the first Army project eligible for a $1.8 million federal renewable energy tax incentive.
Under the ESPC agreement, all upgrades to the garrison, including the installation of the 5,500-panel solar power system, will be made at no up-front cost to taxpayers. Other measures include new utility monitoring and control systems to manage energy at 120 buildings, a program to reduce electricity use during peak demand periods and other improvements to make Fort Bliss more energy efficient.
The Fort will purchase electricity produced by the
solar power system
, with the remaining cost of improvements to be paid for over time with energy costs saved on utility bills.
Johnson Controls will retain ownership and maintenance of the solar installation, and guarantee all energy savings.
"We hope to be energy efficient by 2015," said Jean Offutt, the Fort Bliss Garrison public affairs officer. "Anything being done to support that initiative is good news for us."
The U.S. Army has committed to generating 25 percent of its energy from renewable sources by 2025 as a path away from dependence on foreign oil.
The solar installation at Fort Bliss is the latest of four energy conservation projects totalling $35 million to be carried out by Johnson Controls since 2007.
Image credit: Anchita Wis
---
---
---
---
Other news for Wednesday 04 January, 2012
---
---
---
Return to main renewable energy news section
Other Energy Matters News Services