THURSDAY 04 DECEMBER, 2008 |
---
Renewable Energy Could Phase Out Coal Within 20 Years
by Energy Matters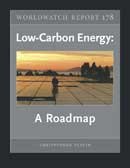 According to the WorldWatch Institute, investment in new renewable electric and heating industries amounted to an estimated USD $71 billion in 2007, an increase of USD $51 billion since 2002. The organization believes that clean energy could topple coal fired power generation within the next 20 years.
Coal still currently accounts for 40 percent of the world's power and has wreaked an incredible toll on the environment over the years. Aside from being a major factor in skyrocketing carbon dioxide emissions, the burning of coal is responsible for a substantial amount of mercury levels in our atmosphere and is a significant contributor to the formation of acid rain. The mining of coal has destroyed vast swathes of habitat and poisoned many rivers and streams. While coal is still plentiful, renewable energy, according to the Institute, is more abundant than all the fossil fuels combined.

In its report, Low-Carbon Energy: A Roadmap, The WorldWatch Institute states cleaner energy sources could see the retirement of hundreds of coal-fired power plants by 2030. The removal of these coal fired power generation facilities could reduce global carbon dioxide emissions by a staggering 33%.
Recent investment into renewable energy has seen prices for clean power plummet, with wind power now costing just under US six cents per kilowatt-hour on average in the USA, which is cheaper than than natural gas and on par with coal.

The report states that a major push for the reduction in coal and oil use in favor of renewable energy sources such as wind energy and solar power will not only lessen the effects of the looming climate crisis, it will also stimulate the currently unstable global economy, creating millions of new jobs around the world. By 2006, the U.S. renewables industry had already 386,000 jobs compared with 82,000 jobs in the coal industry.

Related

:Wind and solar power trivia, facts and statistics


---
---
---
---
Other news for Thursday 04 December, 2008
---
---
---
Return to main renewable energy news section
Other Energy Matters News Services