WEDNESDAY 18 JANUARY, 2012 |
---
Solar Frontier Inks 150MW CIS Solar Panel Deal
by Energy Matters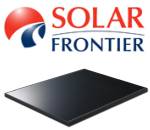 Solar Frontier and enXco have announced a module supply agreement for up to 150 megawatts peak (MWp) of Solar Frontier's CIS solar panels.    
26 MWp of Solar Frontier panels were already delivered in the final quarter of 2011 for the Catalina Solar Project located in Kern County, California.    
Catalina will become the world's largest CI(G)S installation globally when completed. The first phase of the project, consisting of approximately 60 MWp, should be connected and exporting electricity to the mains grid by the end of this year. The second and final phase is expected to be completed by June next year.   
The solar farm will generate enough electricity to provide for the power needs of around 35,000 homes and will avoid the generation of approximate 74,000 tonnes of greenhouse emissions annually.    
"This is a landmark moment not only for Solar Frontier but the CI(G)S industry as a whole," said Gregory W. Ashley, COO of Solar Frontier Americas. "We have demonstrated successfully that the unique characteristics of CIS technology are compelling to major customers by delivering more KWh over the lifetime of a project for a lower cost."    
Solar Frontier CIS solar panels
offer the highest conversion efficiency of any mass-produced thin-film module according to the company. Unlike some thin film modules, Solar Frontier does not incorporate
cadmium
based materials; instead using copper, indium and selenium (CIS). A closely related technology is CIGS, where gallium is also utilised.   
Fewer production steps and raw materials needed for manufacturing Solar Frontier's modules means an energy payback period of less than one year.   
According to
GTM research
, Solar Frontier is the global leader in CIGS thin film solar panel production and estimates the Japanese company manufactured 577 megawatts in 2011.   
enXco
, established in 1987, has a special focus on wind, solar and biogas project development.   
---
---
---
---
Other news for Wednesday 18 January, 2012
---
---
---
Return to main renewable energy news section
Other Energy Matters News Services