WEDNESDAY 18 JANUARY, 2012 |
---
California And US Federal Renewable Energy Partnership Expanded
by Energy Matters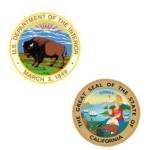 The protracted and often acrimonious nature of state versus federal politics in Australia and elsewhere can leave one wondering at times if politicians really have the best interests of a nation at heart.     
However, it isn't always this way - as demonstrated by US federal Secretary of the Interior Ken Salazar and California Governor Jerry Brown.    
The pair have signed a
memorandum of understanding
(MOU) expanding a state and federal partnership that has paved the way for more than a dozen utility-scale solar energy projects and over 130 renewable power projects in the state.    
California is already a
renewable energy hot-spot
, with the state instituting an impressive policy goal of producing 33 percent of electricity needs with renewable energy sources by 2020. But in order to meet the state's climate target of reducing greenhouse gas levels to 80 percent below 1990 levels by 2050, the approval, investment and construction of solar, wind and geothermal projects must be substantially increased.    
The MOU broadens the scope of the original agreement between the State and the Department of the Interior - which has jurisdiction over one-fifth of the land in the USA - including California. The agreement formally recognises transmission projects as a vital cog in the renewable generation engine and brings in new partners, including the California Public Utilities Commission and the California State Lands Commission.   
The creation of a state and federal taskforce, the Renewable Energy Action Team (REAT), comprised of public utilities, stakeholders, and relevant government agencies will ensure new projects will acquire swift approval; with special attention paid to transmission lines projects.   
REAT is also directed to place a high priority on solar development in areas deemed appropriate, such as California's desert regions, and on processing applications for solar power installations in areas identified as "solar energy zones."    
Speaking at the signing ceremony on Friday, Secretary Salazar said the MOU demonstrated that state and federal partnerships could advance renewable energy in the right way.    
"What's happening in California is nothing short of a revolution – clean energy is creating jobs, powering our economies, and making believers out sceptics."   
---
---
---
---
Other news for Wednesday 18 January, 2012
---
---
---
Return to main renewable energy news section
Other Energy Matters News Services