FRIDAY 17 FEBRUARY, 2012 |
---
Solar Panels Powering Melbourne's 'Little Audrey' Skipping Girl Sign
by Energy Matters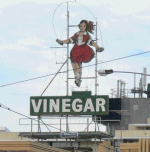 Australia's first neon sign, the iconic Skipping Girl Sign in the inner Melbourne suburb of Abbotsford, is now skipping on the power of the sun thanks to solar panels.  
The sign, popularly known as "Little Audrey" was built  by Neon Electric Signs in 1936. Originally situated on top of what was the Nycander factory at 627 Victoria Street, Little Audrey represented the Skipping Girl brand of vinegar.   
When the Nycander factory was demolished in 1968, the sign was sold by the wrecking company carrying out the demolition to CE Haywood Pty Ltd, a dealer in used cars.   
As the sign had become a landmark in Victoria Street and following public outcry, a smaller version of it was constructed and installed on top of a nearby electroplating factory at 651 Victoria Street in 1970.  
The smaller sign was listed by the National Trust (Victoria) in 2000 and is also listed on the Victorian Heritage Register; where it remains Melbourne's only heritage listed neon sigh.   
The Skipping Girl was illuminated until 2002 when its owners made the decision to stop paying for the electricity and maintenance of the sign.    
A successful appeal was launched for public donations in 2008 to restore the sign and Little Audrey was taken down for repairs in 2009. After restoration works were completed, the sign was reinstalled later that year.   
Since that time, electricity for the sign was paid for by AGL, under its 100% GreenPower energy plan.   
But Little Audrey's power now has a more direct connection to its source. To mark the 75th anniversary of the original sign, AGL has switched the Skipping Girl Sign over to solar power in the form of 27 solar panels.  
"Little Audrey has brought great delight to generations of Victorians and AGL is proud to not only play a part in ensuring future generations are able to appreciate this icon, but also witness and enjoy efficient energy usage at its best," said Mark Brownfield, the company's General Manager of Marketing and Retail Sales,   
---
---
---
---
Return to main renewable energy news section
Other Energy Matters News Services