WEDNESDAY 29 FEBRUARY, 2012 |
---
Arizona Electric Company Trials Lithium Solar Battery System
by Energy Matters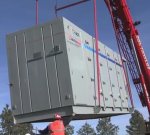 The sun-baked U.S. state of Arizona receives over 300 days of sunshine each year - so naturally solar energy is a heavily utilised resource. Utility-scale solar plants are springing up like wildflowers in unpopulated desert areas and smaller, rooftop solar power systems are dotting homes in urban centres.
But still the question remains; how to keep baseload power supply constant when the sun goes down?
Many concentrated solar power (CSP) facilities are turning to molten salt storage which store excess heat collected during the day to cycle large electric turbines at night. This technology saw the world's first
baseload solar power station
emerge last year, but molten salt isn't suitable for solar panel based facilities.
In the self-described "Solar State," the
Arizona Public Service Company
(APS) – Arizona's largest public utility – has begun testing a new shipping container sized 1.5 megawatt-hour (MW/h) Lithium Ion Battery Energy Storage System (BESS).
Developed by Canadian energy company,
Electrovaya Inc
., the massive battery has the equivalent output of 300,000 cell phone batteries and is designed to increase the integration of renewable energy into the grid.
"We plan to study a number of things, including how we can decrease equipment stress on high demand days and how we can provide solar energy to our customers after sundown," says APS Director of Energy Innovation Barbara Lockwood. "This pilot has great potential to change some of the ways we deliver electricity in the future."
BESS will be trialled at APS's Doney Park Renewable Energy site, a 500-kilowatt solar power plant where the company is studying the effects of a high concentration of solar energy in a single neighbourhood as part of a $3.3 million U.S. Department of Energy grant awarded in 2010.
"Energy storage can make renewable resources more reliable for our operations teams and for our customers. One of the busiest times on our system is between 5 and 9 p.m. That's when many customers get home from work, turn on the lights, the TV and the air conditioner," says Wilhelm. "With storage, we can gather solar energy during the day and dispatch it in the evening, when it provides the greatest benefit to our customers."
The potential for lithium-ion battery systems isn't confined to large scale solar. Kyocera Corporation and Nichicon Corporation recently announced a deal that will see Kyocera offering a full residential grid connect solar power system
including lithium-ion batteries
.
In related recent news, A joint research project has found
LiFePO4 (lithium iron phosphate) batteries
also have the potential to improve the efficiency and reduce the cost of off grid, small scale solar power.
---
---
---
---
Other news for Wednesday 29 February, 2012
---
---
---
Return to main renewable energy news section
Other Energy Matters News Services