FRIDAY 11 MAY, 2012 |
---
Solar Win Brings Smile To Agfest Patron
by Energy Matters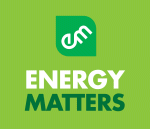 Gary Woodward has been announced the winner of an Energy Matters solar power system after entering a draw at last weekend's Agfest Field Days in Tasmania.
Mr Woodward was offered the option of a 1.5kW system or $3,000 off a larger system of his choice and decided to claim the latter as his prize.
Exhibiting at the festival for the fourth year in a row, local solar provider
Energy Matters
decided this year to run a competition which attracted over 1,000 entries.
Energy Matters' Launceston
based solar specialist
Jason Stewart
said that it was exciting to see just how enthusiastic the Agfest community was about renewable energy.
"Here in Tasmania we have a lot less sunshine then in other parts of the country", said Mr Stewart. "The perception can be that solar isn't as viable here as it is elsewhere in Australia, but that's just not true."
"With the
right sized system
and by running an energy efficient household, Tasmanians can benefit from the one-to-one tariff paid out to those feeding back into the mains grid."
According to the Australian Energy Market Commission, the state's electricity prices are expected to rise 25% in nominal terms by 2014 and Mr Stewart believes that home solar power systems are a great way to protect against further increases.
"A 3kW solar power system can save the average household around $900 a year on their bill", said Mr Stewart. "Imagine what else you could do with that money if you weren't giving it away to your power provider!"
"I congratulate Mr Woodward on his win and look forward to finding the best solar solution to suit his electricity requirements."
For more information:
Virginia Streit
PR & Marketing
0418 332 433
virginias@energymatters.com.au
About Energy Matters
Energy Matters is an award winning business and one of Australia's largest companies solely dedicated to renewable energy.
Founded in 2005, Energy Matters has installed over 8,000 solar power systems on homes, schools and commercial buildings, including Australia's largest privately funded solar photovoltaic project – a 200kW rooftop array in Sydney.
Energy Matters is 100% Australian owned and sources the best products to suit Australia's unique conditions. With expertise in both grid connect and stand alone power, Energy Matters is a leader in flexible clean energy solutions.
For more information, visit www.energymatters.com.au.
Related:
Tasmania solar power specials
---
---
---
---
Other news for Friday 11 May, 2012
---
---
---
Return to main renewable energy news section
Other Energy Matters News Services