MONDAY 21 MAY, 2012 |
---
Taking Solar Power From The People For Nix - VCEC
by Energy Matters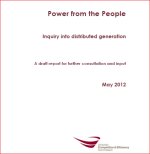 A report concerning the future of Victoria's feed-in tariff joins others that fail to recognise the true value of electricity generated by home solar power systems - and could threaten knock-on effects across Australia if implemented.   
While
installing solar panels
represents a wise investment even without a feed in tariff given the rapidly increasing cost of electricity, nobody should expect system owners to give the surplus electricity they generate to energy companies for free. The contentious point has always been how much that electricity is worth - a fair and reasonable value for the power.      
A draft report from the Victorian Competition and Efficiency Commission (VCEC) recommends solar households be guaranteed a payment of between 6-8 cents per kilowatt hour for the surplus electricity they generate according to the Clean Energy Council (CEC); plus whatever added amount they can negotiate with their electricity distributor.     
CEC Policy Director Russell Marsh says this is an unrealistic approach.   
"It will be virtually impossible for consumers to actually get that additional payment, meaning they will miss out on up to half the value they are entitled to".   
The CEC has previously estimated a fair and reasonable value of solar is between 12-16 cents per kilowatt-hour; but some would say even that undervalues the electricity. A Melbourne University study puts the real value of solar electricity between 40 and 60 cents, taking into account aspects such as reducing electricity distribution infrastructure costs and time of generation.     
Others in the industry simply want a 1:1 feed in tariff rate implemented across Australia, whereby solar households receive the market rate for the surplus electricity they export to the mains grid.     
While the VCEC report recognises distributed generation reduces transmission and distribution losses and the cost of infrastructure maintenance, it has found it difficult to assign a  value to these benefits - and this may be where some of the shortfall in their price recommendations lies.   
Aside from the impact on solar households in Victoria, a concern is should the VCEC pricing recommendations be implemented, it will be used as an example for other Australian states to follow.   
The 216 page report
, which bears the interesting title of "Power From The People", also recommends Victoria's current transitional feed in tariff (TFiT) be closed to new participants when 75 MW of generating capacity is reached; or by 31 December 2013, whichever is sooner - with the latter likely being the case.  There are no retrospective changes recommended for those on the previous premium feed-in tariff (PFiT)   
The VCEC is seeking submissions to its draft report by 15 June and a final report is to be submitted to the Victorian government by 13 July 2012.    
---
---
---
---
Other news for Monday 21 May, 2012
---
---
---
Return to main renewable energy news section
Other Energy Matters News Services