MONDAY 25 JUNE, 2012 |
---
Campbell Soups Up Its Solar Energy Capacity
by Energy Matters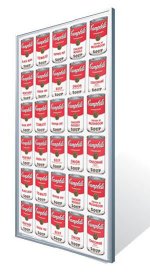 Campbell Soup Company has celebrated the completion of a 9.8-megawatt (MW) solar power system at its manufacturing facility in Napoleon, Ohio.   
Constructed using
SunPower solar panels
and SunPower's T0 Tracker technology, the ground-mount solar farm is generating the equivalent of 15 percent of the facility's annual electricity requirements.  
"This system is a milestone achievement that will reduce Campbell's operational expenses while generating clean, renewable power that contributes to the environmental health of our friends and neighbors in Napoleon and across Northeast Ohio," said Campbell's vice president of corporate responsibility and public affairs, Dave Stangis.  
The project, which was originally announced
in February last year
, is another step towards Campbell's goal of reducing energy use by 35 percent per ton of product produced and sourcing 40 percent of the energy consumed by the company from renewable or alternative energy sources by 2020.   
In 2011, the company installed a
2.3 megawatt solar farm
at its Sacramento factory, which the company said at the time will save approximately $2 million in electricity costs over 20 years.  
More than 200 jobs were created during construction of the new system, which covers 60 acres.    
Partners in the Napoleon project include
BNB Renewable Energy Holdings
(BNB), 
Enfinity
and
FirstEnergy Solutions
. The project is based on a power purchase agreement (PPA) arrangement, which guarantees Campbell will buy all of the energy generated by the photovoltaic array.  
"More and more commercial and industrial companies are seeing that on-site solar energy is a viable business proposition and a brand-builder, as it shows a commitment to sustainable energy," said Enfinity America Corporation CEO Rafael Dobrzynski.  
"BNB and Enfinity have shown what's possible when focused development expertise meets a ready source of funding. 2012 is going to see more of these solar success stories," said Matthew Baird, a principal and founder of BNB.  
Related:
Commercial solar power in Australia
---
---
---
---
Other news for Monday 25 June, 2012
---
---
---
Return to main renewable energy news section
Other Energy Matters News Services