WEDNESDAY 27 JUNE, 2012 |
---
Victorian Libraries Go Solar
by Energy Matters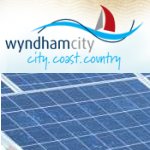 Two libraries in the Victorian city of Wyndham are slashing their carbon emissions and power bills after having installed solar panels.  
Wyndham City Council's
Werribee CBD and Point Cook Library have each had a 5 kilowatt solar panel system installed, which will avoid around 8.9 tonnes of carbon dioxide emissions annually, the equivalent of taking eight cars off the road.
"These solar panels will provide not only a saving in terms of carbon emissions, but also a financial saving to Wyndham City as they reduce our energy bills," said  Wyndham Mayor Cr Kim McAliney.
While not providing specifics of electricity bill savings, a 5kW
solar power system installed in Melbourne
can generate savings for a household of around $1,900 a year according to information from
Energy Matters
- often blowing away a family's power bill altogether.   
Installation of the systems is one of many green initiatives which were part of Wyndham City's 2011/2012 capital works budget. Other initiatives included the Public Lighting Energy Management Scoping Study and hosting the first National Grassland Management Conference.  
"Wyndham City is leading by example by installing these solar panels in our facilities and demonstrating to residents just how much energy can be saved in their own homes," Cr McAliney said.
The installation of the panels occurred just in the nick of time -
electricity prices in Victoria
are set to rise substantially from July 1.   
Wyndham is located on the coastal plain on the western fringe of Melbourne. The City has experienced the largest and fastest growth in all Victorian local government areas and is the third fastest growing in Australia.  
The City has set a target of a 40% reduction in greenhouse gas emissions by 2015 compared to 2001 levels (excluding Wyndham's Refuse Disposal Facility) and to reduce per capita Community water consumption by 15% below 2002-03 levels, by 2013.  
---
---
---
---
Other news for Wednesday 27 June, 2012
---
---
---
Return to main renewable energy news section
Other Energy Matters News Services