TUESDAY 10 JULY, 2012 |
---
The Morning After Queensland's Solar Stampede
by Energy Matters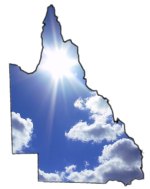 Queensland's PV capacity will get a major boost over the next 12 months after households in the state raced to secure a solar power system on Monday ahead of Solar Bonus Scheme incentive cuts at midnight.      
Monday was busy throughout the day, but an additional spike after 6pm due to incorrect news reports added to the rush.     
It appears several TV news reports incorrectly stated all Queenslanders needed to do was register interest in acquiring a solar panel system in order to secure the 44c solar feed in tariff rate; which was to be slashed to 8c per kilowatt hour for applications received after midnight.     
This led to an influx of calls from people not quite ready to make an immediate serious financial commitment and tied up solar companies' phone lines; in some cases preventing those who were ready to purchase from getting through.   
Regardless, Queensland will see hundreds of thousands more solar panels on rooftops in the months ahead.   
According to a
Courier Mail report
, Energex's group manager said the total number of applications received in the past fortnight was expected to have reached 50,000 by last night's deadline. If all those applications are approved and the systems installed, in 12 months from now 20% of southeast Queensland homes will have solar PV installed.   
National solar provider
Energy Matters
reported record levels of submissions from Queenslanders using the company's online
solar quotes
tool yesterday and the second highest level of traffic in the history of its web site; quite an event given
www.energymatters.com.au
is one of the most heavily visited solar energy web sites in Australia.   
While last night's final rush will provide plenty of work for solar companies over the months ahead, it will also present some challenges and dangers. Already there is talk of some under-resourced companies and firms working on wafer thin margins going under - and fly-by-night operations simply disappearing. While finally clearing Queensland of solar cowboys will be a positive development, customers of shonky operators will suffer.   
For Queenslanders who missed out on the 44c per kilowatt hour incentive, all is not lost. Aside from generating their own electricity,
Queensland households going solar
who missed the deadline will still receive between 14 - 16c per kilowatt hour for any surplus electricity exported to the mains grid under the revised incentive scheme, which includes a 6 - 8c electricity retailer contribution.    
---
---
---
---
Other news for Tuesday 10 July, 2012
---
---
---
Return to main renewable energy news section
Other Energy Matters News Services