WEDNESDAY 18 JULY, 2012 |
---
Hanwha SolarOne To Offer Home Solar With Battery Storage
by Energy Matters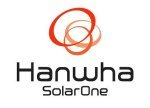 Hanwha SolarOne is the latest solar panel manufacturer to set its sights on combining its products with energy storage systems for residential applications.    
With
solar feed in tariffs
less than stellar in some regions - or perhaps not existing at all - and electricity prices skyrocketing; demand is increasing for residential solar power systems that incorporate energy storage.     
Such systems can store electricity generated by solar panels during favourable conditions, allowing the household to draw on the resource at night or on heavily overcast days; further avoiding costly mains grid power.    
Hanwha SolarOne
has announced a strategic partnership with Silent Power for the development of a complete solar power and energy storage system for residential, commercial and industrial markets. The first product bundle is expected to be rolled out in the USA by September this year.   
"We know from our customers that energy storage is an essential key to unlocking the full potential of renewable energy," said Charles Kim, president of Hanwha SolarOne. "It enables a smarter energy grid and achieves reliability and value for a solar system."   
Silent Power's OnDemand Energy Appliance can also provide backup power to the household during grid outages and can be called on by an electricity company to provide power to the electric grid during times of peak demand.    
This latter feature is particularly interesting in that peak power can be
incredibly expensive
  for electricity companies to source; costing upwards of $5,000 per megawatt hour at wholesale rates - or $5 per kilowatt hour.    
When these residential energy storage systems start becoming commonplace in homes in Australia, it remains to be seen if households using them will be rewarded with a payment or credit equivalent or close to the
wholesale electricity price
at the time the power is called upon. If not, electricity companies may find themselves being locked out of accessing this valuable resource.    
Earlier this year, Kyocera also announced plans to
incorporate lithium-ion batteries
into energy storage for home solar energy systems. In June,
Panasonic Corporation
announced its own compact long-life lithium-ion battery system for residential solar power applications.   
Perhaps it may not be too long before many grid connected homes in Australia become virtually "off grid" solar households.   
---
---
---
---
Other news for Wednesday 18 July, 2012
---
---
---
Return to main renewable energy news section
Other Energy Matters News Services