THURSDAY 19 JULY, 2012 |
---
REC Wins Customer Value Enhancement Award
by Energy Matters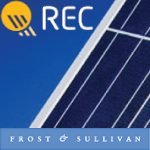 Adding to its growing list of accolades, REC has been named recipient of the Global 2011 Frost & Sullivan Award for Customer Value Enhancement for making solar power solutions more accessible around the world.   
A fully integrated solar panel manufacturer, something that sets REC apart from the rest and recognised by Frost & Sullivan is its proprietary Fluid Bed Reactor (FBR) technology that produces high purity solar silicon using 80-90 percent less energy; reducing manufacturing cost and energy payback time.   
"Since no other market participant uses such technology, REC has developed a distinct competitive edge by delivering high value for money to its customers," said Frost & Sullivan Research Analyst Georgina Benedetti.   
"Reducing the manufacturing costs of solar panels can reduce solar electricity costs and put it on par with conventional sources of electricity generation, thereby increasing its uptake."  
In addition to rapid energy payback of one year,
REC solar panels
have a very low carbon footprint of  between 18 and 22 g/kWh CO2; whereas a more conventional PV system has a carbon impact of around 35 g/kWh.  
REC is a
tier 1 solar panel manufacturer
, which means it has control over the entire solar value chain - from silicon production to cell construction, to the final assembly of its solar modules. This integration not only helps cuts costs of production, but also ensures tight quality control. Only around 2% of solar panel companies are considered tier 1.    
REC Peak Energy Series solar panels rapidly gained popularity in Australia after local company
Energy Matters
introduced the modules to the Australian home solar power market in June 2010. In November of that year, Energy Matters entered into an agreement for the purchase of 20 megawatts of REC modules, which at the time was one of the largest single solar panel supply agreements in Australia.   
Earlier this year, independent ongoing field testing of 45 solar module brands found REC modules to be the
best performing solar panel
.   
---
---
---
---
Other news for Thursday 19 July, 2012
---
---
---
Return to main renewable energy news section
Other Energy Matters News Services