FRIDAY 20 JULY, 2012 |
---
Victoria Solar Feed In Tariff Review Countdown
by Energy Matters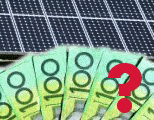 Victoria now has Australia's most generous solar feed in tariff incentive; but it may not hold this status for much longer.     
Results of a review of solar feed in incentives by the Victorian Competition and Efficiency Commission (VCEC) will be submitted to the Victorian Government on Friday, July 27.     
A draft VCEC recommendation in May suggested only a 6 - 8c per kilowatt hour payment for new applicants, plus whatever additional rate solar households are able negotiate with their electricity retailer - an arrangement the Clean Energy Council labelled at the time as being "unrealistic".   
A guaranteed 6 - 8c would be far less than what is being offered to households acquiring a system now (25c per kilowatt hour + up to 8c electricity retailer contribution).  Households signing up for the
Transitional Feed-in Tariff
(TFiT) before any changes are announced will receive the guaranteed rate until the end of 2016.    
While the VCEC has been considering further input from the solar industry and other stakeholders since its draft recommendations, whether this will see their recommended price range increased is still unknown at this point.   
Also unknown is how long the Victorian government will wait before announcing any changes after receiving the review. In the past there have been instances where solar incentives in Australia have been subject to "sudden death" announcements; providing little or no notice of changes.    
Another trigger that could end the TFIT for new applicants with little or no warning is the cap for the program being reached; which is 75MW installed capacity. While total figures to date aren't available, during March an estimated 11 MW of solar systems were installed in total in Victoria. If install rates have been similar each month during 2012, the cap may be very close to being reached.    
With Victorians enduring two major electricity price hikes in the past 12 months, the case for making the switch to solar power to rein in or wipe out electricity bills has become stronger.   
According to Melbourne-based solar provider
Energy Matters
, a good quality entry-level 1.52kW solar panel system
installed in Melbourne
can generate electricity bill savings of up to $600 a year under current feed in incentive arrangements. A 4.25kW solar array can provide in the region of $1,600 in financial benefits annually.   
Related:   
Melbourne and Victoria Solar Power Specials.
---
---
---
---
Return to main renewable energy news section
Other Energy Matters News Services