TUESDAY 31 JULY, 2012 |
---
Victorian Electricity Consumption Survey Participant Request
by Energy Matters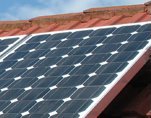 Solar and non-solar households in Victoria are invited to participate in an online survey regarding residential electricity consumption in Victorian homes.   
The Moreland Energy Foundation Ltd (MEFL) is seeking Victorian households to complete
the survey
, which it says takes around 10-15 minutes to complete.   
MEFL suggests participants have a recent electricity bill handy while completing the questionnaire.   
The main aim of the study is to gauge the impact of installing
solar panel systems
on total electricity consumption and changes in the electricity load profile in Victorian homes in recent years.    
"For this project we will be surveying and collecting electricity billing data for houses both with and without a solar electricity system connected," states the survey FAQ.   
"Gathering data for both these groups will then allow us to compare electricity consumption between them and draw conclusions about residential electricity consumption."   
All Victorians are invited to participate, with the only conditions being respondents must have lived in their current home for at least 2 years and their home must be connected to the mains grid.   
Solar households are asked to have system installation documents handy as they will be asked a few questions about the system.   
Prospective participants should note that for the purposes of the study, MEFL will need to collect personal household information and billing data provided by their electricity retailer/s. MEFL guarantees any personal data provided as part of the research will not be published or shared publicly.    
The research has been commissioned by the Clean Energy Council, Sustainability Victoria, the Department of Sustainability and Environment and the Department of Planning and Community Development. MEFL is a non-profit organisation committed to facilitating community action on greenhouse gas emissions.    
The outcomes from the research will be used to inform energy policy in the future.
The survey
will be open for the next four to six weeks.    
---
---
---
---
Other news for Tuesday 31 July, 2012
---
---
---
Return to main renewable energy news section
Other Energy Matters News Services