MONDAY 17 SEPTEMBER, 2012 |
---
More Solar Grandmothers Ready To Light Up Their Worlds
by Energy Matters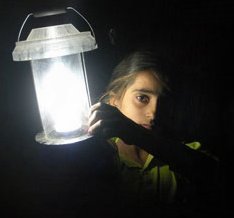 Ten women will soon return to Fiji to install solar power systems in their communities after having studied solar installation at the Barefoot College of India.      
Last year, we reported on
two grandmothers
from the island nation of Tonga installing solar in communities in that nation without access to mains grid electricity, who were trained by the same institution.     
In  2011, UN Women in partnership with the Barefoot College of India and the governments of Fiji, Solomon Islands, Samoa, Vanuatu, Kiribati and Nauru kicked off  the "Solar Grandmothers" initiative, which resulted in a further 29 women from the region attending a six month solar training course.     
As well as installing solar power systems, the Fijiian women - the nation's first formally trained solar engineers - will also pass on their skills to others.      
According to a joint release from Fiji's Ministry of Social Welfare, Women & Poverty Alleviation, UN Women, the Indian High Commission in Fiji and the Barefoot College, reduced access to resources including energy hinders women's full participation in sustainable development.      
Women and girls are disproportionately burdened by a lack of access to modern energy sources in many countries and significant social and economic benefits can be realised by enhancing women's access to energy such as solar power.     
"The solar engineers will be a great asset both now and in the future to lead the solar electrification projects to light up villages with hope, improved livelihood and their skills will be shared to multiply the benefits of this initiative," reads part of the statement.     
As well as being armed with the appropriate skills, with the support of UN Women, Barefoot College will supply 376 small household solar energy systems and 9 equipped workshops will be delivered and distributed to home communities of the trainees.   
Established in 1972, the
Barefoot College
is a non-government organisation that has been providing basic services and solutions to problems in rural communities, with the objective of making them self-sufficient and sustainable.    
---
---
---
---
Other news for Monday 17 September, 2012
---
---
---
Return to main renewable energy news section
Other Energy Matters News Services