MONDAY 24 DECEMBER, 2012 |
---
Electricity Prices Up 91 Percent Over The Last 5 Years
by Energy Matters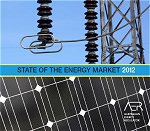 The Australian Energy Regulator's (AER's) recently released sixth State of the Energy Market report states residential electricity prices have jumped 91% over the past five years nationally - and the major culprit is ..    
.. poles and wires.   
"The main driver of higher retail energy prices has been rising charges for using energy networks - that is, the poles and wires, and gas pipelines that transport energy to customers," says an AER statement.   
While the body says factors such as forecast growth in peak energy demand (which has at times overestimated consumption), replacing ageing equipment and higher financing costs were largely unavoidable, other cost pressures were difficult to justify and "led to unnecessarily high revenue streams for network businesses".  
The AER report states the cost of using transmission and distribution networks to transport electricity is the largest component (43−52 per cent) of retail bills, followed by wholesale energy costs (25−36 per cent). Retailer operating costs (including margins) contribute around 10 per cent of retail bills.   
The carbon price contributes 4−11 per cent of a residential power bill and other green programs, including but not limited to those covering solar power, have been stable over the past two years and make up 4−7 per cent of electricity bills.     
The report says electricity prices increased nationally over the past five years by an average of 66 per cent in real terms (91 per cent in nominal terms) and gas prices rose by 40 per cent in real terms (62 per cent in nominal terms).    
The AER states an emerging concern has been an increase in electricity generators making bids without reference to their underlying generation costs.     
"While this behaviour had limited direct impact on energy customers in 2011−12, it could adversely affect competition and market efficiency in the longer term."     
The Australian Energy Regulator's sixth
State of the Energy Market
report can be viewed in full here.     
With little in the way of electricity bill relief in sight over the short term for most Australian households, home
solar power systems
may appear on many 2013 New Year resolutions lists.   
---
---
---
---
Other news for Monday 24 December, 2012
---
---
---
Return to main renewable energy news section
Other Energy Matters News Services