FRIDAY 15 FEBRUARY, 2013 |
---
Microsoft Providing Solar-Powered Broadband Access In Africa
by Energy Matters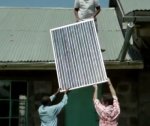 Early this month, Microsoft Corp announced the launch of a pilot project delivering low-cost wireless broadband access in parts of Kenya via solar-powered base stations.   
A project carried out in collaboration with the government of Kenya's Ministry of Information and Communications and Indigo Telecom Ltd.,  the network utilizes TV white spaces to carry broadband signals to previously unserved locations near Nanyuki and Kalema. The project is the first deployment of TV white space technology in Africa.  
TV white spaces are well-suited for delivering low-cost broadband access as radio signals in the TV bands can be transmitted over longer distances and penetrate more obstacles than other types of radio signals. As a result, fewer base stations are required.    
Microsoft says that as television has begun to switch from analog to digital around the world, even more of this spectrum can be used to relay broadband.   
More than 6,000 people will benefit from the project; which is part of the
Microsoft 4Afrika
Initiative.
In addition, solar power systems with deep cycle battery energy storage will be installed at local schools to supply electricity to their Information & Communication Technology (ICT) labs. Each system will generate 4.5 kilowatt hours (kWh) of energy per day, which should provide a small surplus of power above what is required for each lab.   
While 4.5 kilowatt hours doesn't sound like a great deal, it will be sufficient for students to use tablets and eReaders in the labs.   
"Solar power addresses the issue of reliability in developing economies and carries low operating costs since panels last a long time and batteries can function for up to three years," says a statement from Microsoft.   
"That makes solar an increasingly affordable way to deliver power, especially in areas that lack infrastructure for both electricity transmission and broadband access."   
---
---
---
---
Return to main renewable energy news section
Other Energy Matters News Services