TUESDAY 17 MARCH, 2009 |
---
Victoria's Electricity Related Greenhouse Gas Emissions Skyrocket
by Energy Matters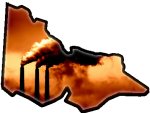 Energy related greenhouse gas emissions from energy use across Australia's eastern states fell just 60,000 tonnes or less than one per cent compared with last summer's emissions according to
The Climate Group
.
While there were significant fall in emissions from petroleum of almost one million tonnes, or just under four per cent, across all three states, coal fired electricity generation grew substantially, with the main culprit being Victoria. The state depends heavily on brown coal rather than the "cleaner" black variety. 
Victoria saw a rise in overall emissions by some 483,000 tonnes when compared with the previous summer, mostly due to a 5.6 per cent increase in emissions from Victoria's coal-fired power stations, the equivalent of 851,000 tonnes.
The results will lend even more weight to the case for a push for
renewable energy
in Victoria, particularly after the state government's
recent announcement
of a net feed in tariff scheme for
grid connect solar power
systems. The announcement
angered supporters
of solar energy who believe a
gross feed in tariff,
such as the one established recently
in the ACT
, should have been implemented. 
Victorian Secretary of the Electrical Trades Union, Dean Mighell, described the state's net feed-in laws as "terrible". The 17,000 member strong Victorian ETU has also thrown their support behind a national petition demanding a national, uniform gross feed in tariff being run by Victoria based
Energy Matters
at
FeedInTariff.com.au


Many see a net feed in tariff scheme, which only pays a premium on surplus electricity produced by a renewable energy system, as being a token gesture rather than a real commitment to encouraging investment in the solar power industry and the uptake of solar power by home owners; subsequently decreasing electricity generation related emissions.
---
---
---
---
Other news for Tuesday 17 March, 2009
---
---
---
Return to main renewable energy news section
Other Energy Matters News Services