THURSDAY 28 FEBRUARY, 2013 |
---
UNEP Wants Solar To Light Up Developing Nations
by Energy Matters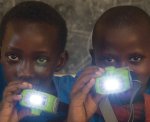 Replacing the 670 million kerosene lamps used in the developing world with cleaner, safer solar-powered lighting would save 25 billion litres of kerosene and many millions of tonnes of carbon emissions annually.   
The United Nations Environment Programme (UNEP) recently announced a partnership with the Global Off-Grid Lighting Association (GOGLA)  to facilitate a shift towards energy-efficient, off-grid lighting; which would also tackle the estimated 74 million tons of carbon emissions from fuel-based light sources generated annually in developing nations.  
Coinciding with the announcement; the UNEP has published assessments of 80 countries to demonstrate the benefits of shifting to solar powered lights.  
For example, residents of Nigeria could save over US$1.4 billion annually and the equivalent of 17.3 million barrels of crude oil if kerosene lamps were replaced with more sustainable alternatives.   
If Kenya replaced all fuel lamps with solar-powered LED systems, the costs would be repaid in just seven months.  
UN Under Secretary-General and UNEP Executive Director Achim Steiner says the switch to solar lighting would provide benefits on many other fronts, such as reducing health risks from indoor air pollution and the generation of green jobs.  
Wolfgang Gregor, Secretary-General of the Global Off-Grid Lighting Association (GOGLA), says his association will be striving to raise awareness of the benefits.  
"We want to ensure that decision-makers and government officials are aware about the importance of modern off-grid lighting solutions and recognize the potential of this multi-billion dollar market. This will lead to the implementation of policies that address product quality standards and environmental issues and create sustainable employment."  
The UNEP is also rolling out a new programme in partnership with Germany's government to work with West African countries to accelerate the shift to sustainable, off-grid lighting.  
There has been a great deal of work done in developing low-cost LED lighting specifically for developing nations - examples include
LUCI
,
Luminaid
,
Solar Pebble
and the Australian-designed 
Mandarin Solar Light
Source
---
---
---
---
Other news for Thursday 28 February, 2013
---
---
---
Return to main renewable energy news section
Other Energy Matters News Services