WEDNESDAY 03 APRIL, 2013 |
---
China To Implement Carbon Trading Scheme
by Energy Matters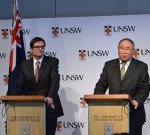 A senior Chinese official has told a conference on climate change that his nation faces a "horrific" future with unimaginable environmental consequences if China does not act now to establish a carbon trading scheme and install more renewable energy.   
Dr Jiang Zhaoli made the comments at the Australia-China Climate Change Forum, held last week at the University of NSW (UNSW).   
Federal Minister for Climate Change, Industry and Innovation, Greg Combet co-hosted the bi-lateral conference, alongside his Chinese counterpart, Vice-Chairman Xie Zhenhua, China's most senior minister responsible for climate change. Mr. Zenhua said China planned to reduce carbon emissions by 40-45 percent by 2020.   
Vice-Chairman Xie announced that China would soon introduce the world's largest carbon trading scheme, saying there was a misunderstanding about China's efforts to combat carbon emissions.    
China, the world's largest emitter of carbon emissions, has faced ongoing criticism that it is doing nothing to curb carbon emissions, which has damaged efforts to introduce emission trading schemes in other countries.    
"China's national carbon market plans, which Vice Chairman Xie outlined this morning, are comprehensive and will be a very important development for the global carbon market. Once up and running, it will be the largest emissions trading scheme in the world," Minister Combet said.    
Under the plan outlined by Xie, seven pilot carbon trading schemes will be in operation by year's end, with many coal-fired plants around the country mothballed and to be replaced with non-fossil fuel energy sources, including nuclear, wind and solar power.    
Minister Combet pointed to an 8.6 percent drop in electricity demand in Australia after six months of operation and said China introducing a carbon price was the first step towards an Asia-Pacific carbon market.   
UNSW's Centre for Energy and Environmental Markets, will help implement some of the seven trading schemes.     
Centre Joint Director, Associate Professor Iain McGill said the country was poised to become one of the world's largest jurisdictions with carbon pricing in place.     
"Successful development of a national scheme from their seven pilots can play a vital role in China's, and hence the world's, efforts to slow global warming and its impacts."   
Source/image source
---
---
---
---
Other news for Wednesday 03 April, 2013
---
---
---
Return to main renewable energy news section
Other Energy Matters News Services