FRIDAY 05 APRIL, 2013 |
---
Crescent Dunes Molten Salt Solar Receiver Completed
by Energy Matters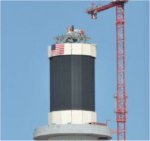 SolarReserve has announced one of its flagship projects is reaching final stages of completion in the Nevada desert, with the installation of molten salt receiver panels on the peak of the 540-foot tall tower of the
Crescent Dunes Solar Energy Plant
.
††††
By utilising molten salt storage technology, the Crescent Dunes solar plant, located near Tonopah, Nevada, can operate like a conventional power plant, providing "on demand" and emissions-free electricity for up to 10 hours in adverse conditions.
††
"The energy storage capability of this technology solves the problem of intermittency typical of other renewable energy sources," said Kevin Smith, CEO of SolarReserve.†
†
"Additionally, because of its high efficiency, this technology can generate almost twice as much energy as a comparably sized solar facility, including facilities powered by photovoltaic panels or by a direct steam tower."
†
The molten salt receivers now installed atop the solar tower are, according to SolarReserve, panels comprised of alloy tubing filled with molten salt capable of storing the heat generated by the field of heliostat mirrors surrounding the tower. The stored heat is used create steam and drive a turbine to produce electricity.†
†††
At 110 megawatts, the Crescent Dunes Solar Energy Plant will be able to power 75,000 homes, day or night.
†††
We reported on the completion of the 165-metre (540-foot) Crescent Dunes tower
in February last year
. With a deadline of late 2013, the assembly of the molten salt receiver panels is the latest milestone in the plantís construction phase.†
††††
After initial financing was approved in September 2011, the plant has employed around 600 on-site workers during its 30-month construction period and is expected to generate more than $73 million in tax revenue through the first 20 years of operation.†
††††
SolarReserve will sell 100 percent of the energy generated from the Crescent Dunes project to Nevada households under a 25-year power purchase agreement (PPA) with NV Energy.†
†††
---
---
---
---
Other news for Friday 05 April, 2013
---
---
---
Return to main renewable energy news section
Other Energy Matters News Services