TUESDAY 24 MARCH, 2009 |
---
Solar Panel Snobbery Overruled
by Energy Matters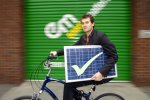 Housing and neighbourhood associations can act as a great protection for a community, preventing issues such as your neighbours installing 4 metre high ugly garden gnomes in their front yards or turning their premises into something reminiscent of a wrecking firm. However, sometimes they can go a little over the top.
An example is a recent case in Palos Verdes, California where a homes association denied local home owners permission to install blueish coloured solar panels, even though they were to be installed on the rear roof of applicants' houses. The blue colour is indicative of a
polycrystalline solar panel
, a cheaper type of module than monocrystalline panels.
Monocrystalline solar panels
are usually black; the colour that the home owners association preferred.
Aside from the colour, there really isn't a lot of difference between
monocrystalline and polycrystalline solar panels
except that a monocrystalline panel is the smaller of the two when comparing equal wattages. The polycrystalline solar panels were chosen based on price, local manufacture and environmentally sensitive methods of manufacture.
According to the
Palos Verdes Peninsula News
, the city of Palos Verdes Estates overturned the ruling, thanks to California's Solar Rights Act that prohibits cities and homes associations from restricting solar panel installations, unless they pose a risk to the health or safety of nearby residents. The association remains steadfast in their decision though, concerned about the "aesthetics" and the impact the blue-tinged panels will have on the surrounding homes - however, the only neighbour affected didn't have a problem with them.
As we've reported in the past, California's
Solar Rights Act
is a very important example of legislation that helps protect home owners who invest in solar power systems; whether it be protection from overzealous home associations, or a neighbour planting a tree that threatens to
block sun falling on a solar panel
array. Similar, stringent legislation
is yet to be realised
in Australia.
---
---
---
---
Other news for Tuesday 24 March, 2009
---
---
---
Return to main renewable energy news section
Other Energy Matters News Services