TUESDAY 21 MAY, 2013 |
---
Wind To Help Power Nuclear Weapons Facility
by Energy Matters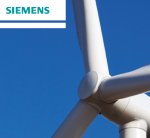 Wind power will provide electricity for America's last remaining nuclear weapons assembly and dis-assembly facility.   
The
National Nuclear Security Administration
(NNSA) has awarded German wind turbine manufacturer Siemens Government Technologies a contract to build an 11.5 megawatt wind farm at the Pantex nuclear weapons plant in Amarillo, Texas.  
Once completed, the Siemens facility will be the federal government's largest wind farm to date. The facility is expected to generate roughly 60 percent of the plant's energy needs and save $2.9 million annually over the 20-year contract term.    
The wind farm will be built on 1,500 acres of government land adjacent to the Pantex plant, powered by five 2.3 megawatt Siemens turbines capable of generating 47 million kilowatt hours of wind power annually – enough electricity for nearly 3,500 homes – and reduce carbon emissions by 35,000 tons each year.    
Siemens won the right to build the Pantex wind farm under the terms of an Energy Savings Performance Contract, which requires the company to provide a multi-year service, maintenance and warranty guarantee. The cost of building the facility is offset by the savings promised by Siemens in the agreement.   
"As a world leader in the wind industry, Siemens will bring reliable, secure, renewable energy to the critical mission at the NNSA Pantex plant," said Judy Marks, president and CEO of Siemens Government Technologies, Inc.   
The wind farm will help Pantex and the NNSA to meet the Department of Energy's renewable energy targets for federal agencies that demand not less than 7.5% of electricity must come from renewable sources in fiscal year 2013 and thereafter.     
The Pantex Plant, operated by B&W Pantex for the NNSA, is responsible for maintaining the safety, security and reliability of the USA's nuclear weapons stockpile.    
The NNSA was established as a separate agency under the umbrella of the U.S. Department of Energy (DOE) in 2000.    
Source
---
---
---
---
Other news for Tuesday 21 May, 2013
---
---
---
Return to main renewable energy news section
Other Energy Matters News Services