WEDNESDAY 22 MAY, 2013 |
---
Compressed Air Storage Could Boost U.S. Renewable Energy Uptake
by Energy Matters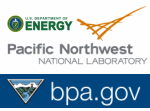 New U.S. research into storing energy in underground caverns in the form of compressed air could lead to improved uptake of utility scale wind power in America's Northwest.    
A study by the Department of Energy's Pacific Northwest National Laboratory and Bonneville Power Administration has found that compressed air energy storage (CAES) has the capacity to store wind power for up to 85,000 homes in two specific geologic areas of inland Washington and Oregon.  
CAES storage helps solve the problem of intermittency in renewable energy generation. When the wind powers turbines, or the sun shines on a solar power plant, electricity is abundant and must be stored for later use.   
CAES works by using excess energy from a power plant to pump compressed air deep into an underground storage structure such as porous rock, where it remains until needed. The pressurised air is then released back to the surface where it drives a turbine to generate electricity for the grid, thus providing a constant flow of energy.  
Study manager for the BPA, Steve Knudsen, believes that with 13 percent of the Northwest's power supply coming from wind energy sources, CAES technology will become a valuable tool in helping the states meet Renewable Portfolio Standards, which require 20 to 30 percent of all electricity come from variable sources such as wind and the sun.  
There are just two CAES plants in the world and both are man-made, one in Alabama and
one in Germany
. The PNNL/BPA research looked instead for natural geologic formations in Oregon and Washington, finding seams of porous volcanic basalt rock, 450 metres below the surface and at least 10 metres thick.   
So far two promising locations have been identified. One is the Columbia Hills Site in Oregon, which is near a natural gas pipeline and could be paired with a CAES system to provide up to 40 days of continual energy storage. The other is the Yakima Minerals Site, which would use geothermal power and CAES technology in a hybrid power plant and utilising geothermal energy to cool the facility's air compressors, increasing their efficiency.  
Source
---
---
---
---
Other news for Wednesday 22 May, 2013
---
---
---
Return to main renewable energy news section
Other Energy Matters News Services