FRIDAY 28 JUNE, 2013 |
---
Coal Seam Gas (CSG) Vs. Renewable Energy
by Energy Matters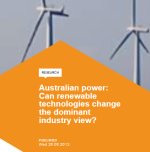 In a fight between CSG and renewable energy based on merits, who would win? The University of Queensland provides the answer.   
The Global Change Institute at The University of Queensland has determined a shift from coal-fired to gas-fired electricity generation in Australia will not deliver significantly lower carbon dioxide emissions and furthermore, wholesale power prices would be higher than with a renewable energy option.    
"There is no justification for the claim that a high proportion of energy sourced from renewables will drive up wholesale costs, in comparison to a power system heavily dependent on coal seam gas," says Energy economics researcher Professor John Foster.    
Professor Foster says large-scale renewable energy generation along with consumer action to use power more efficiently will deliver the most resilient Australian power market; not a gas-centric one.    
To create the scenario analysis, the Instituted modelled the deployment required to meet demand  in 2035 in the National Electricity Market (NEM) using PLEXOS, an electricity market simulation package.   
While comparatively low capital costs make gas fired red generation attractive to power generators, the Institute's modelling provides little evidence that a shift to gas will adequately address some important forces driving the power system; namely rising fuel prices, rising distribution costs, carbon constraints and public perception.    
The renewables/consumer action scenario "provides considerably more evidence that it is preparing the power system to be able to respond to future uncertainties making it more attractive to energy intensive industries."    
However, the Institute doesn't appear confident the powers-that-be will take note of its findings, stating they "may not be sufficient to change the dominant industry view which is intent on replacing coal with gas."   
The research report, titled "Australian Power: Can renewable technologies change the dominant industry view?",
can be downloaded here
(PDF)   
---
---
---
---
Other news for Friday 28 June, 2013
---
---
---
Return to main renewable energy news section
Other Energy Matters News Services