THURSDAY 18 JULY, 2013 |
---
New South Wales Looming Gas Crisis 'Fabricated'
by Energy Matters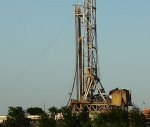 The push to develop more gas fields in Australia has nothing to do with securing domestic supplies and lowering prices; but everything to do with export bucks says Zero Emissions' Matthew Wright.    
Mr. Wright says domestic supplies are not under threat and regardless of how many gas fields are developed; pricing will never drop below current levels.   
"This is a scare campaign with no basis in fact, the public is being completely misled with a lot of postulating and huff and puff from the coal seam gas (CSG) industry, which is desperate to develop as much gas as it can and ship it out to Asia at high Asian prices."    
Once linked to international markets, Mr. Wright says Australians will pay the Asian price.    
"Do not be fooled by the fossil gas miners - they're not here to give Australia a competitive advantage, only renewable electricity generators can do that as there is no way to export renewable electricity."    
Earlier this month, Mr. Wright also challenged a call from the Australian Gas Pipeline Industry for more taxpayer support for gas, saying there was no justification for further lining the coffers of gas companies.   
"Gas is dirty, it's not clean, gas is a diversion and not a shortcut.  To throw good money after bad on a sunset industry that is seeing costs blow up for Australian consumers is wrong and should be given short shrift."    
Zero Emissions
says fossil gas is more emissions intensive than coal when total lifecycle emissions are taken into account; with fugitive emissions (escaping gas) being the major culprit.    
"A very low loss rate of only 2% makes fossil gas worse than coal and fields in the US are showing up to 15% losses, with an average of 4% for unconventional gas including CSG."    
---
---
---
---
Other news for Thursday 18 July, 2013
---
---
---
Return to main renewable energy news section
Other Energy Matters News Services