THURSDAY 05 NOVEMBER, 2009 |
---
$16.4 Million Green Building Fund Project Grants Announced
by Energy Matters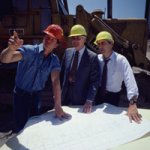 37 green building projects announced earlier this week by Senator Kim Carr, Minister for Innovation, Industry, Science and Research, will cut greenhouse gas emissions by around 38,000 tonnes annually.
The $16.4 million worth of projects make up the third round of the $90 million
Green Building Fund
, a government initiative aiming to reduce energy consumption and greenhouse gas emissions by retro-fitting commercial office buildings with technologies such as
solar power
.
The Green Building Fund is one of the many
commercial solar power incentives
available to Australian businesses large and small. Other programs include tax breaks, solar credits and feed in tariffs for businesses installing grid connect solar power systems.
Projected savings in greenhouse gas emissions from projects supported by the fund so far total over 101,000 tonnes a year according to Senator Carr and represent investment of almost $75 million out of the $90 million available under the program.
"By increasing energy efficiency, successful recipients are reducing their power bills along with their greenhouse emissions, and that means ongoing savings for business."
One of the projects to benefit from the latest round of funding is the redevelopment of a historic building in Port Adelaide, introducing electricity generation on site and incorporating a solar array that will export surplus power to the mains grid. Another project in Albury received over $120,000 to install a 20 kW grid connect solar power system
Senator Carr stated the next rounds for Streams A and B of the Green Building Fund program will close on 12 January 2010.
---
---
---
---
Other news for Thursday 05 November, 2009
---
---
---
Return to main renewable energy news section
Other Energy Matters News Services