TUESDAY 02 FEBRUARY, 2010 |
---
Tony Abbot's ERF - A 'Solar Sunrise' For Australia?
by Energy Matters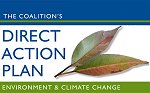 Federal Opposition leader Tony Abbott has today announced the coalition's official climate change policies and plans for a $2.5 billion emissions reduction program in order to reduce carbon levels by 2020.  
Under the Coalition's alternative to the Rudd government's ETS (Emissions Trading Scheme), businesses that reduce emissions below "business as usual activity" will be able to sell their greenhouse gas abatement to the government and those who go above will incur a financial penalty.  
Among the initiatives under what the coalition has called the Emissions Reduction Fund, a range of measures would be also be introduced to support the increased uptake and use of
renewable energy
in homes and communities. The Coalition have referred to these measures as a "solar sunrise for Australia".  
The Coalition says it will provide an additional $1,000 on top of current
solar rebates
for either
solar panels
or
solar hot water systems
, capped at 100,000 rebates per year, with view to achieving one million additional
residential solar power
installations by 2020. Mr Abbott says this will provide an additional CO2 emissions reduction of 2.4 - 3 million tonnes a year by 2020.  
The Coalition says it will also apportion $100 million to a Solar Towns and Solar Schools Initiative which will provide grants for towns, non-capital cities and schools to for grid connected solar power systems. Current comparable programs under the Rudd government are
Solar Cities
and the
National Solar Schools Program
.  
Other related initiatives under the Emissions Reduction Fund include $50 million to be provided to a Geothermal and Tidal Towns Initiative and $2 million to be used in a major study into the utilisation of underground electricity transmission and the potential conversion of overhead powerline corridors to urban parklands and inner suburban housing.   
Source
|
Discuss this in our forums
---
---
---
---
Other news for Tuesday 02 February, 2010
---
---
---
Return to main renewable energy news section
Other Energy Matters News Services